TBAS SWAP MEET:
Monday, May 8, 2017

at the TBAS Monthly Meeting.
Remember last year?????
It was a great, great time for all!

Remember last year?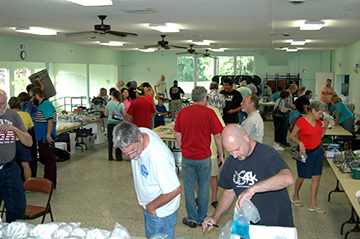 REGISTER BELOW!!!!!!!!!!!!!!!!
for sure . . .
REGISTER BELOW!!
Directions to TBAS club meetings:
CLICK HERE

CONCEPT:

A "Swap Meet" where TBAS members and non-members can
present their Aquarium Related items for

SALE

or

SWAP

! TBAS takes
none of the profit of the transactions and takes no part in the "deal".
This is solely for the benefit/profit of each TBAS member.
WHEN: The Swap Meet will be held on the normal Monday May meeting date
. . .

MAY 8, 2017

. There will be no normal TBAS meeting that night.
WHERE: At the normal TBAS meeting place at:
Riverview Civic Center
11020 Park Drive
Riverview, Florida 33569
TIME: Undetermined at the moment . . . maybe the normal starting time
of 7:30pm but we are now negotiating an earlier time of maybe
6:00-6:30pm, with the county. We will keep you notified as to the
starting time. Break-down time will be 9:30pm.
RULES (for the moment - 3/8/2016):
1) TBAS members will be given a table . . . FREE, to display their
Aquarium Related goods . . . $5.00 FOR A 2nd table.
You MUST register ahead to get your TBAS
table for sure . . . you
cannot just walk in and get a FREE TABLE before the
REGISTERED TBAS members take their table!!!!!
REGISTERED TBAS members will get their tables FIRST then we will accomidate all other TBAS members and non-members!
2) Non-TBAS members will be charged $20 for each table they use.
3) Maximum 2 tables per seller.
4) 2 TBAS'ers can "go together" and get 1-2 tables.
5) All items must be removed by the sellers after the evening is over.
6) Electricity will NOT be availiable at EACH table.
7) There will be a

"CLUB"

table supplied by TBAS to promote
any aquarium related club . . . for flyers and signs.